High Impact Personalized Email Marketing for your Email Marketing Campaign
Mail Communicator™ allow you to create personalized email marketing campaign that will increase your message relevance to your customers. It will increase response rate to your email marketing campaign and generate new and recurring revenue for your business.
Why Personalized Email Marketing?
Message personalization works, it is what separate you from spammers. To be successful in your email marketing campaign you need to build a mailing list, and use it to personalized your email marketing message. Recent study has shown that this email marketing strategy will generate more response rather than just blasting out email to unknown recipients with all uniform messages, most likely people will delete your messages before you know it.
Mail CommunicatorT will help you do your personalized email marketing campaign easily and successfully with the following features:
Insert multiple fields to your messages
Start receiving more response with personalized email marketing campaign
Enrich your HTML based email marketing messages to be more attractive and eye catching for your customer

Insert attachments, pictures and hyperlinks in your messages
Add colours and bulleted lists to your email marketing messages
If the recipient's mail program does not read HTML, your messages will appear as plain text with an HTML file attached

Send messages with "Send rules"
Multilingual support
Support BCC mode
Use multiple keywords to filter out addresses you do not want to be mailed.
Check email addresses against the "remove list" before sending them
This personalized email marketing software is just what you need to perform your email marketing campaign successfully and gain more profit for your business.
When you send email marketing message like this, you are on the risk that your message will be considered as "SPAM" and it will filtered out by anti-spam program before reach to the recipients.
Spam filtering and message management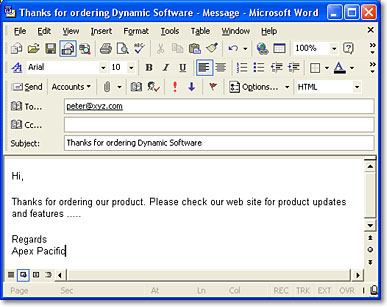 Instead, you can send "personalized" message that start with the recipients name like this: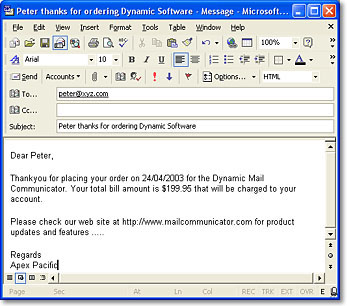 Mail Communicator™ allows you to send personalized email marketing message to a mailing list in a customized format, you can merge an unlimited number of customized fields into your message( i.e. email address, first name, last name, company, customer ID, product, price etc.) so that when people receive your message, they think you know them! Mail Communicator support Plain Text and Rich Text(HTML) format, and attachments. You can specify the number of messages you want to send at a specified time. You can compose messages off-line and send them the next time you connect.
Here is an example of personalized email marketing email message.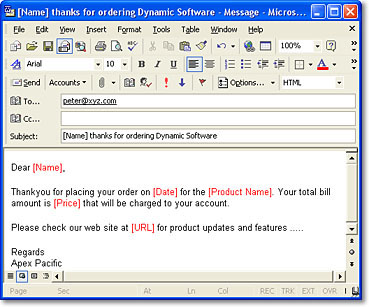 When you sending the message, Mail CommunicatorT will merge all of the appropriate information with your mailing list, so that email marketing message received by the recipient will looks like this: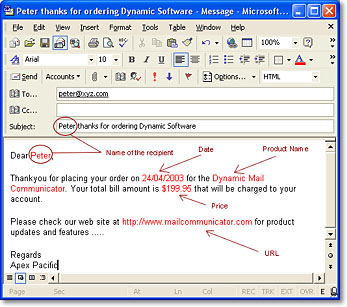 Downlaod Now
SEO Suite - SEO Marketing Software
Are you looking for the best SEO suite on the market that will save your money and help you to outrank your competitors?
Download Now